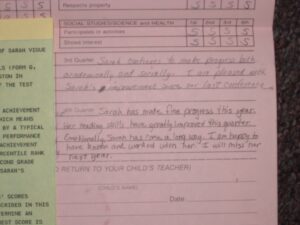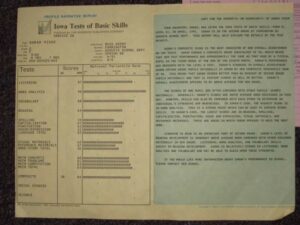 What better way to learn about me than to see what my grade school teachers had to say?
3rd quarter: Sarah continues to make progress both academically and socially. I am pleased with Sarah's improvement since our last conference.
4th quarter: Sarah has made fine progress this year. Her reading skills have greatly improved this quarter. Emotionally, Sarah has come a long way. I am happy to have known and worked with her. I will miss her next year.
Okay so maybe you need a little more to go off of. For you party poopers, here's something more meaningful:
Sarah Lacey Vigue has been an authentic Christian since the end of 2012 and has been involved in several ministries since becoming born again. She was born in a military hospital and left to her own devices for three days. Upon discovery, she was quickly removed. But what transpired on those days remains a mystery to this day. A reformed overachiever, Sarah ran with the Olympic torch and graduated from UMASS Amherst with bachelor degrees in Comparative Literature and English. She received her first real payment for writing fifteen years ago and continues to write. Sarah has ten years' experience in various marketing-related business endeavors.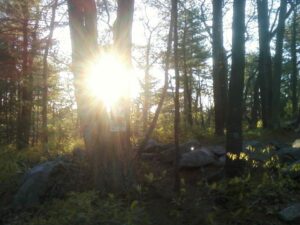 Sarah thrives when spending time with "her kids" (church kids, neighborhood kids, or her niece and nephew). She loves traipsing through nature and currently lives on the North Shore of Massachusetts helping non-profits through marketing fundraising. Outside of work, you can catch Sarah in a theology class, in a gym class (barre or pilates), or lost in her apartment in Massachusetts. She is intensely passionate about, well, many things but very much so with biblically anchored and Spirit-led living despite being a little "twitchy."